Welcome to the online gallery of
professional wildlife artist James Hough
This site showcases the latest original paintings by James Hough.
Original paintings can be purchased directly from the artist.
Contact James directly with any enquiries. Phone: (02) 4930 0261, Mobile: 0432 483 181 or Email
CURRENT NEWS

I am pleased to announce that my painting of Green Rosellas has just been announced (3/12/2017) as the winner of the Peoples Choice award at the Holmes Prize for realistic Australian Bird artwork at the Caloundra Regional Gallery Queensland.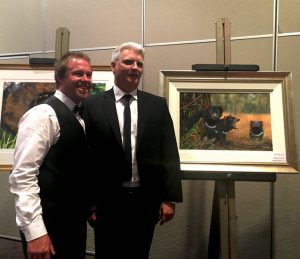 2017 NEWS
Pictured here: Tim Faulkner General Manager Aussie Ark Sanctuary and Australian Reptile Park and I and my donated original painting "The Devil you Know". Last night I had the pleasure of attending the 2017 Devil Ark Gala dinner. What an impressive night of fundraising not only for Devil Ark but also introducing the new Aussie Ark Sanctuary which is to be constructed alongside Devil Ark in the Barrington Tops of NSW.
2017 has been a very successful year for me Internationally and at home. Again this year two paintings of mine have been selected by an International Jury to appear in the 2017 Artists for Conservation virtual exhibition and both selected to appear in the annual AFC book. These paintings were : "Overnight Parking" Red Tailed Black Cockatoos and " Life at Best" Emerald Dove.
Early this year my painting " Fruitful Ground" Rose Crowned Fruit Doves, won third place overall in the International Artists Magazine Wildlife Art competition and was featured in International Artists and American Art Collector magazines in June 2017.
My painting "Sanctuary" Green Rosellas has been chosen as a finalist in the Holmes prize for Realistic Australian Bird Art. This exhibition begins Wed 8 Nov to Sun 3 Dec Caloundra Regional Gallery and Showcases Australia's best realistic bird art depicting a realistic Australian birdlife scene.
Sales and commissions of my artworks have reached an all time high this year so thank you all who have purchased artworks from me and for everyone's kind words of support. I'm looking forward to 2018 already and planning for some new interesting subjects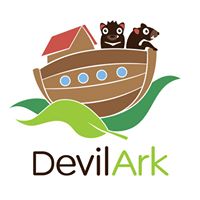 James is a supporter and sponsor of Devil Ark